A few weeks ago I posted a Beaujolais day trip, exploring the 12 appellations (wine producing regions) making up the overall Beaujolais "brand". Following is a brief summary and tasting notes, in alphabetical order, of the ten Beaujolais Cru (grand) appellations that I suggest that all lovers of wine should investigate.
Despite their basis on the "humble" Gamay grape, these wines are impressive and outstanding value in their own right.
Brouilly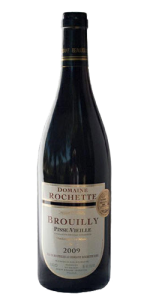 The largest and southernmost of the Beaujolais Cru appellations takes its name from Mont Brouilly where according to local legend, Brulius, a lieutenant of the Roman army, built a house.
Brouilly has a deep ruby colour and an aroma more fruitier than floral, evoking red berries and plums, with occasional mineral notes. Mixtures of four different types of soil, ranging from pink granite to limestone-marl substrates, plus its southern aspect, lend 'mediterranean' characteristics to Brouilly wine, making it most like the wine of Beaujolais Villages.
This wine is an early-drinking wine that doesn't gain from much bottle maturation. Brouilly works very well with most red meat dishes and has a particular affinity to roasted game.
---
 Chenas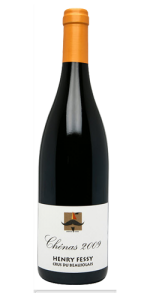 In just under one square mile, about 100 growers produce an average 1.5 million bottles of wine a year.
Ruby red with garnet tints and floral aromas, Chénas is a full-flavoured, full-bodied wine. It features spicy, woody hints and is often described as "a bouquet of flowers in a basket of velvet."
Claiming to be the rarest of the Beaujolais Cru appellations, this fine, sophisticated wine needs a few years of bottle age to achieve perfection.
Chenas pairs very well with mature cheeses and stews. Here's my recipe for bouef bourguignon which quelle horreur!  I cooked (and we drank) with Chenas one cool autumn evening in Sivignon.
Muenster and Chénas
Muenster is a semi-firm French cow's-milk cheese easily identifiable thanks to its reddish rind. Its flavor ranges from mild to sharp depending on the cheese's age. Paired with a two to three-year-old Chénas, a gentler Muenster nicely substitutes dessert when you don't want something sweet.
---
Chiroubles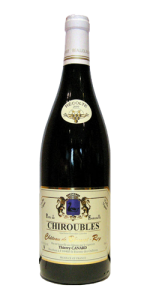 Around the village of Chiroubles, a type of sand called gore provides the grapes near-perfect growing conditions. The result is texture so delicate, Chiroubles is referred to as the "most Beaujolais" of all the Crus.
Temperatures in Chiroubles are lower than in other parts of Beaujolais, which means that the vines are five to 10 days behind the normal growing cycle. Chiroubles is also the Cru grown at the highest altitude, cultivated between 250 and 450 metres above sea level, producing an average of 2.3 million bottles a year.
Ruby red in appearance with floral aromas, Chiroubles is known as a gentle yet lively wine. Tasting notes include red fruits typical of the Gamay grape.
This Cru pairs very well with roasted pork and poultry.
---
 Cote De Brouilly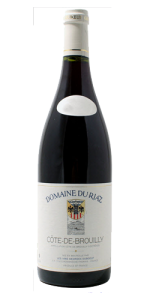 On the slopes of Mont Brouilly, surrounded by the Brouilly appellation is a separate vine growing region. In Côte de Brouilly, there is a constant battle against soil erosion. The vinegrowers dig channels into the slopes to drain off water and regularly add mulch between the vines. The 1.3 square mile area accommodates around 70 growers who produce an annual average of 2 million bottles.
This bright crimson wine is both elegant and meaty. Côte de Brouilly features aromas of fresh grape and iris. Delicate and lively, these wines are best after a little cellaring, which adds to their elegance.
Try this with roast pork or a light stew. We had a bottle to accompany a Sunday brunch of ouefs en meurette – here's the recipe.
---
 Fleurie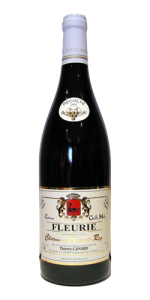 Fleurie is found in the north of Beaujolais and covers an unbroken area of three square miles. The soil here is almost entirely made up of pinkish granite that is unique to this part of Beaujolais.
The area can be divided into two zones. In the higher, steeper areas of the appellation, the soil is thin, acidic and dry. This produces very light and aromatic wines. Below the main village, the terrain is deeper with a little clay. These wines are fuller-bodied and age well.
Fleurie is an elegant wine with a refined, silky body. Deep carmine red in color, the wine features floral and fruity aromas like rose, red fruit and vine peach and evolves into spiciness with a few years in the bottle.
Despite the overt 'floral' notes on many of the Beaujolais Crus the name 'Fleurie' is linked to a Roman legionaire from around the 3rd century .
We found this luscious number to match well with pâtés and creamy mushroom soups.
---
Julienas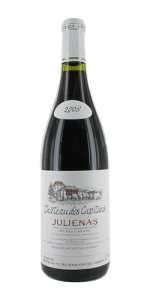 The starting point of vine growing in the Beaujolais region, the roots of Juliénas trace back more than 2,000 years. Juliénas and Jullié, two out of the four communes that produce this appellation, take their name from Julius Caesar, as vines were grown on the communes' hillsides during the Gallo-Roman period.
Juliénas is an earthy, weighty wine with a deep ruby red color and strawberry,  cinnamon, red currant and floral aromas. Juliénas develop into powerful wines with delicious flavours of vanilla and spice after 2 or 3 years bottle maturation.
This is a terrific match for coq au vin or other poultry dishes.
Camembert and Juliénas
A soft, white-rinded French cow's-milk cheese, Camembert is perhaps France's favorite fromage. Very rich and just a little strong, Camembert tastes best opposite the earthy, weighty wines of Juliénas. If you're ever lucky enough to visit Normandy, be sure to taste an authentic Camembert, which is made of unpasteurised milk.
---
 Morgon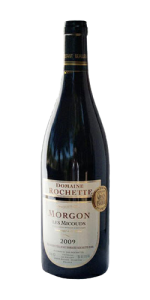 Surrounding the village of Villié-Morgon in the heart of the crus of Beaujolais, dominated by the Mont du Py, the plots of "rotten rock" composed of schists and eruptive rocks are very old divided into six distinct climates, the most famous is the Côte du Py.
Morgon is produced by around 250 growers. It is characterised by a deep garnet color and aromas of ripe fruit such as cherry pits, peach, apricot and plum. Full bodied, this wine is rich, powerful and robust, and expressing all the characteristics of its terroir and can be cellared for 5 to 10 years to realise its potential.
This is a ripper with rich meaty stews and game dishes.
Epoisse and Morgon
Epoisse is a soft French cow's-milk cheese. Smear-ripened and intensely rich, it is an adventurer's cheese that needs an equally bold wine to reach its full potential. Pair Epoisse with a 2009 or 2010 Beaujolais from central Morgon, where the wines are full-bodied and carry aromas of kirsch.
---
Moulin a Vent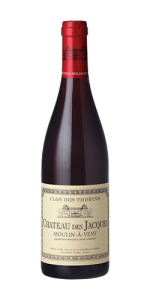 The Mâcon courts first registered Moulin-à-Vent in 1924 in an effort to combat counterfeit wines. The appellation area has never changed and today's wine is produced from the same granite-based soil. A windmill that was classified as a historical monument in 1930 is the well-known symbol of the Cru.
The highest rated of all the Beaujolais Crus, Moulin-à-Vent is ruby to dark garnet in color with floral and fruity aromas. Full-bodied and complex, these wines have hints of iris, spice and ripe fruit.
When young, they feature a dominance of violet and cherry flavors. After a few years, the bouquet develops aromas of iris, spice and ripe fruit. Later, undergrowth and truffle aromas begin to come through, followed by musk and game.
Mainly facing east, Moulin-à-Vent is found 250 to 450 metres above sea level. Made up of crumbly pink granite called gore, its soil has seams of manganese that give Moulin-à-Vent its specific character. Across more than two square miles, 280 growers produce an average of 4.25 million bottles a year.
Once matured, pair with roasted red meats and wild game, mature cheeses
Brie and Moulin-à-Vent
Brie is a soft French cow's-milk cheese that is best served very fresh. Its creaminess mingles nicely with the full-bodied wines of Moulin-à-Vent, which give off aromas of iris, spice and ripe fruit after only a few years of aging. The perfect pairing when your main course has left you with an appetite.
---
Regnie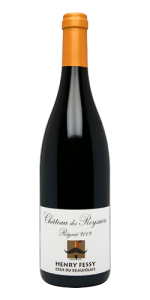 Régnié is spread over one square mile on pink granite, mineral-rich terrain. Grapes here are grown on hillsides found approximately 1,150 feet above sea level. These aromatic wines mature early. A Régnié may be enjoyed early in the year and will keep for three to five years.
Régnié features raspberry, red currant, sloe and blackberry aromas. Its flavor profile of red berries is both fresh and structured, leading to a very aromatic wine with good length and a touch of mineral and spice.
Many Régnié vine growers use integrated and even organic vine growing and winemaking techniques, limiting the use of chemical products. There are some 80 growers who produce an average of 2 million bottles a year.
Pairs well with pâtés, white meats or warm, creamy appetisers. To be a little different, we had a dinner party with friends in Sivignon and I cooked bouef a la ficelle and we washed it down with a few bottles of Régnié.
---
Saint-Amour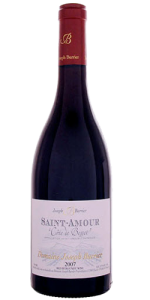 Designated as a Cru in 1946, Saint-Amour is known today as the most romantic Beaujolais of all. In fact, 20 to 25 percent of Saint-Amour sales occur in February, and a label featuring Cupid is created just for Valentine's Day – testaments to this Cru's quixotic character.
Saint-Amour is found in the far north of the vine-growing region, where the soil features intermingling granite and clay, schist and limestone. It is one of the smallest of the Cru appellations, comprising around 115 growers that produce an average of 1.6 million bottles a year.
just another way for you to stalk me