Bouef Bourguignon (Burgundy beef stew)
Serves 4 – Commence preparation day before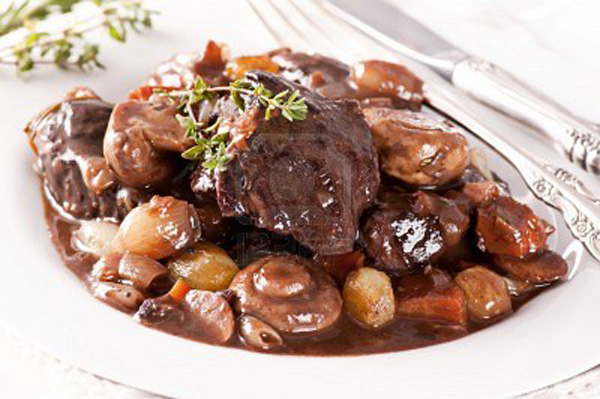 800g beef cheeks or rump cut into 4cm cubes
120g bacon lardons
6 cloves garlic peeled and sliced
2 medium onions thinly sliced
5 carrots peeled and roughly chopped
20 baby (pickling) onions
20 button mushrooms – half whole and half sliced and stems removed
250ml beef stock
750ml bottle red wine – Pinot Noir
2 tablespoons flour
50g butter
1 bouquet garni
5 bay leaves
4 sprigs of thyme
Salt and pepper
2 tbsp Dijon mustard
Creamy mashed potatoes to serve
Beef Bourguignon is the classic comfort food, and an ideal meal for a cold Burgundian (or Victorian) winter's day.
On day before, marinate beef in the red wine, 2 bay leaves and bouquet garni. Refrigerate overnight and allow to return to room temperature. Remove beef from marinade and dry on kitchen paper. reserve the liquid and herbs.
Melt butter in a cast iron casserole, sauté the beef for 8 – 10 minutes. Sprinkle well with flour. Stir with a wooden spoon for around 5 minutes until flour cooked off, then transfer to a plate with a slotted spoon.
Add the bacon lardons to the casserole, with the garlic, sliced onions, carrots and baby onions and sauté for 5 – 7 minutes or until softened. Return the beef to the pot and pour over the beef stock. When boiling, add the reserved marinade and bouquet garni. Season generously with freshly ground black pepper and sea salt.
Cook covered 4 hours on very low heat, skimming any fat that rises to the surface. The sauce should have reduced to a thicker consistency and the meat will be tender. In the final 20 minutes of cooking, add the mushrooms, stir through the mustard and check for seasoning.
Allow the bourguignon to cool slightly before serving garnished with a sprinkle of parsley and a serving of creamy mashed potatoes laced with another spoon of Dijon mustard.
Serve with the best pinot noir you can afford.
just another way for you to stalk me