We're in Cuzco (Cusco) and it's the eighth day of our ramble along Peru's famous Gringo Trail.
To recap, our journey commenced in Lima before flying, via Cuzco, to Puerto Maldonado and 2 nights in Reserva Amazonica in the headwaters of the Amazon River. We then flew back to Cuzco and, leaving our heavy baggage in storage, were immediately swept over the mountains and down into the Sacred Valley of the Incas and onwards to the Inca citadel at Machu Picchu.
As we made our way around Peru we became aware that life moved to the soundtrack of the seventies and eighties, and it became something of a game to identify a piece of music that had relevance to the day we heard it.
We arrived in Cuzco Thursday night and were delighted to be reunited with our baggage after an all-too-touristy train trip to Ollantaytambo and chauffered transfer out of the Sacred Valley.
Cuzco (the 'z' and 's' are interchangeable) is a fascinating city, teeming with international travellers acclimatising themselves to the breath-shortening altitude of 3400 metres above sea level (around 11,500 ft in the old money), before making the pilgrimage to Machu Picchu some 112 km to the northwest.
Cuzco was the 'capital' of the Inca empire which spread through the Andes and encompassed large tracts of what are now modern day Ecuador, Bolivia, Argentina, Chile, Colombia and, of course, Peru. It's cultural, architectural and historical significance is such that the city of about 380,000 was placed on the UNESCO World Heritage List in 1983.
As one of Latin America's most significant tourist destinations, Cuzco reputedly receives around 2 million visitors a year (that's 5,500 new arrivals on average every day – almost all destined for Machu Picchu).
And here we are, Friday morning in May, emerging from our hotel on the Avenue El Sol and blinking in the sunlight of the fierce blue Andean sky, as we introduce ourselves to the Condor Travel reps who will drive and guide us on a day tour of the city and nearby ruins.
Those who have followed our journey so far will be aware of my reduced lung function thanks to a lengthy bromance with ex-mates Benson and Hedges. I'm more than a little short of breath, but neither Mitch or I appear to be suffering too much from soroche, the altitude sickness that guide books warn of visitors to Cuzco. The air is much thinner than I'm used to, and my breathing is laboured, but nothing serious and we have no great exertions planned for the day.
So, it's into the car and we're off to explore this fascinating city.
Cuzco historic/cultural heart
The first thing that becomes obvious (apart from the footpath teeming with tourists) is the amazing combination of Baroque Spanish architecture and solid, sturdy timeless Inca stonework. Our first stop was the Plaza de Armas (City Square) with it's post-Columbian cathedrals and administrative buildings constructed on the ruins of Inca temples.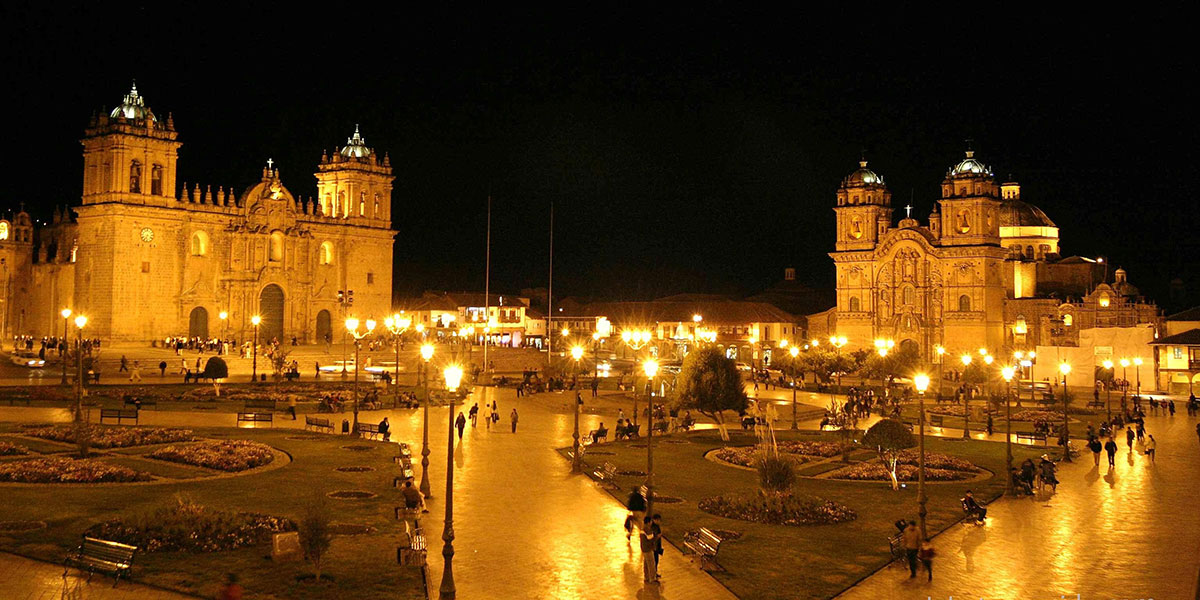 Cuzco Plaza de Armas
From the Plaza we wandered on foot back through the historic centre along ancient cobbled lanes between walls of solid stone blocks. Passing the Convent of Santa Catalina and the ubiquitous row of souvenir stalls an enterprising stall holder was drumming up business by thumping out Madonna's music on a convent-sized ghetto blaster. " Like a Virgin " deafened a bemused bunch of tourists trying to organise their boletos to enter the convent and brought a wry smile of amusement.
One of the most impressive feats we were introduced to was the 12 angle stone, in an Inca wall near the Museo Koricancha, itself a stunning feat of Inca construction and Spanish re-construction.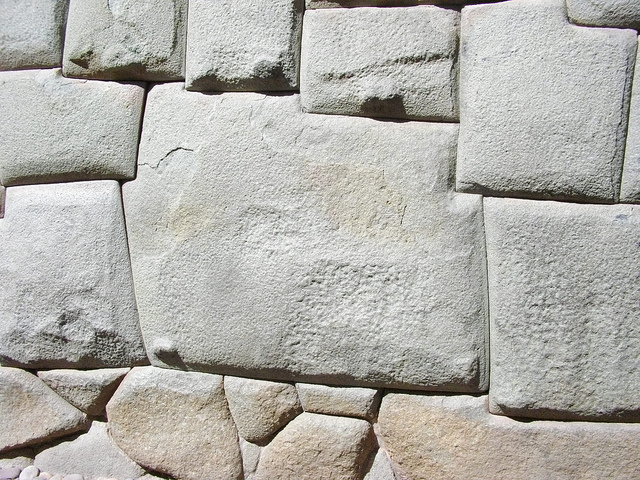 12 Angled Stone Inca Wall Cuzco
 Koricancha was the main Inca temple in Cuzco and is a masterpiece of the Inca architecture, built in blocks of carved granite with molten gold used as mortar in the junctures of the blocks.  The Spanish built the church and Dominican convent on top of the original structure around 1534 but they collapsed during the earthquake of 1650 and were rebuilt around 1681. The convent possesses an art gallery of stunning 17th and 18th century canvasses and a spectacular collection of pre-Columbian gold figurines.
While we weren't being overly energetic, the thinness of oxygen was tiring me so occasional rest-stops became the order of the day.  We decided on an early lunch and followed our guide Rueben's advice and sauntered back past the Plaza de Armas to Plazoleta Espinar and a restaurant/lounge called Tupananchis.
Mitch and I shared a Valley Carpaccio ; a curious combo of river trout and alpaca, both dressed in a bland sauce accompanied by a herb, capers and rocket salad. Despite my fears of tourist-suckerbait I moved onto a crisp fried guinea pig (which was the most expensive main and sounded much better than it ate) and Mitch had a crispy trout in a curry/vodka sauce. Our summation of Tupananchis was that while it might be a nice place for a drink and snack, there must be better places to eat.
We rejoined Reuben and took to the car for our next stop; Sexy Woman.
Cuzco historical surrounds
Reuben obviously enjoyed his gringo joke, fishing for a titter at the mention of Sexy Woman. Ten minutes drive uphill and we're at the ancient Inca garrison fort of Sacsayhuaman. Overlooking the city of Cuzco is this amazing complex of carefully cut boulders forming impregnable terraces 300 metres long with a commanding view of the valley below.
A curious addition to the Inca constructions at Sacsayhuaman  is a six metre statue known as the White Christ of Cuzco overlooking the city. This brilliant white edifice was a gift from wealthy Palestinian refugees who sheltered in Cuzco during WWII and reflects the Catholic influences on the native Quechuan population.
Our journey continued to the temple of Qenqo (Kenko); a huge rocky outcrop carved into staircases, tunnels and channels and an underground chamber protecting a stone figure. A short drive on and we explored the Baths of the Inca, a sacred man-made site featuring fountains and channels the Quechuans used to worship the water deities.
Soon enough we're driven back to our Cuzco hotel and given instructions to meet our transfer driver at 8am on Sunday to connect with our coach to Puno and Lake Titicaca. The next day we're free to explore on our own.
So, here we are in Cuzco, the navel of the world, it's Friday evening and we have no intention of dining in the hotel.
Our mate Ted, at Contours Travel, had made a number of suggestions and after filtering out the patently folkloric tourist traps, we decided on Fallen Angel .
 Fallen Angel Cuzco
A ten minute cab trip from our hotel brought us to Plaza Nazarenas and the restaurant recommended for its delicious Andean beef steaks. It's a fairly cool evening, only about 7pm and the Plaza is ominously deserted of life.
Still, we locate Fallen Angel and step inside after negotiating a particularly awkward door.
Inside, Fallen Angel is all louche, red-tinted gloom with eerie glowing neon accents and a deep bass-driven soundtrack.  Before we're spotted by the hostess we notice a smattering of 'Gen Y' types at four tables who seem to be more interested in scanning their smart phones than their menus.
While I'm thinking "Uh Oh we've stuffed up here" the hostess eyes us and hurries to the door to deliver a delightfully warm meet & greet. "Where would senor like to sit?" I'm asked by the smiling hostie. "I've got no bloody idea, I can't see more than ten feet" I'm thinking, but my mouth manages to utter "Wherever you recommend would be just fine with us".
We're led into the dining room proper, past glowing bathtubs repurposed as glass-topped dining table/fishtanks to a quiet corner table for two with a great view to the bar and the centre courtyard.
A couple of Pisco Sours a la Fallen Angel were ordered and we sat back to inspect our environment. If there is one word that could adequately encapsulate the Fallen Angel schtick, I can't think what it is. But "personality" is at least a start.
Whoever imagined this venue at the outset must be the love child of Baz Lurhman and Willy Wonka. It's a riot of colour and design … and nothing looks trite or out of place. Here's hoping the tucker matches the ambience.
The menus arrived with the cocktails and discreetly positioned lamps in the ceiling raised the lumen levels on the table, turned on by the barman as soon as the menus were placed before us. These guys have thought of everything. Either that or we were given the geriatric table.
The menu offered a cross section of 'Peruvianised' International dishes but made it pretty clear that the house specialty was tenderloin (fillet) steak . I've since learned that the owner raises his own cattle on his ranch on the Andean altoplano. Having struggled by on a diet of river trout, quinoa and chifa dishes over the past few days I was ready to scream "Feed the man meat!"
So … here's what we ordered.
Mitch: Entree – "Concha My Granny" – seared scallops in a parmesan basket
Main – Tenderloin "Chocolatier" – sauce of chocolate, chilli tomato and pisco – very much like a Mexican black mole.
Me: Entree- "Barbaric & Organic" – steak tartare
Main – rare fillet with sauce bordelais salad and fries. Simple and delicious.
Pricing was high by Peruvian standards, probably similar to what we'd pay in Melbourne, but this is a town that exists for tourism, so you have to expect to pay above the odds. Did I mention that the preparation and presentation were superb, and that everything we ordered was delicious?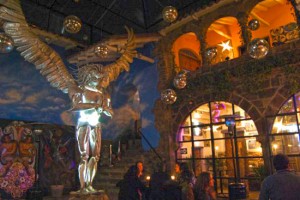 The Fallen Angel in Cuzco is also a guest house, with delightfully eclectic, luxurious and glamorous amenities for the well-heeled. It's definitely not the backpacker market and would be an attractive stopover for a couple hitting Machu Picchu on the Hiram Bingham.
If you ever get to stay there (or ride the Hiram B) I'd love to hear your experiences.
just another way for you to stalk me