It's a Cuzco Saturday morning; crisp, bright and sunny. The hotel breakfast made exceptionally palatable with the online news that Collingwood had given Geelong FC a thorough shellacking at the MCG on Friday night, Melbourne time.
We're an odd couple; I'm a 'Pie'man and Mitch a 'Cat'woman, so at least twice a year there's a minor domestic shitfight at our place.
(International readers, please disregard the past few sentences. They relate to purely Australian matters and there are no words that can meaningly translate into other culture or language).
First task of the day is to deposit a load of washing at a nearby laundrette before stopping off at a market to pick up a clutch of silly hats to be worn at our upcoming  annual winter solstice pissup get-together with friends. We then wandered back up Av. El Sol past the Korinacha Museum to the heart of Cuzco; Plaza De Armas (Army Plaza).
It was barely 10am and the streets were comparitively quiet. My guess was that tourists had either caught the dawn train to Machu Picchu or were holed up in their digs nursing a hangover caused by Friday night's revelries and the thin Cuzco air.
With more time to loiter the immediate response was admiration for Cuzco's unique architecture; the blend of ancient Inca stonework foundations and the Spanish Colonial buildings introduced after the Conquistador colonisation  in the 1530s.
It's said that the Spanish tried valiantly to destroy the 'pagan' Inca temples and palaces but were thwarted by the sturdiness of the buildings' granite contruction, opting instead to build cathedrals and administrative buildings on top of the indestructible stonework.
The most striking observation was the overtly catholic influence evidenced by a cathedral and church fronting two sides of the plaza, with a further two more iglesia visible on adjacent streets.
From the Plaza de Armas we meandered, sometimes laboriously, uphill into the art and cultural precinct known as Barrio de San Blas.
One of the oldest in the city, this barrio (neighbourhood ) has streets whose patterns follow those of the Incas—narrow and steep where old houses have been built upon Inca stone walls. Among the zig-zagging streets are picturesque little squares and vistas of the city below. It's all very interesting and charming, even though the shortness of breath made the climbing a tad arduous.
This area is also known as the Barrio de los Artesanos (Artisan Quarter), and it is dotted with workshops and stores of some of the most famous Cuzco artists. We happened upon a silversmith and haggled none-too-harshly for a set of artisanal earrings as a memento before settling at an outdoor table in a bar in a tiny square for a cold Cusqueño (local beer).
We checked our map for a route to  Museo de Arte Precolombino (aka MAP –  Museum of Pre-Columbian Art) and took the easy route downhill to connect with an intersecting road in its direction. Our plan was a quick inspection of this famous collection of Inca artifacts pre-dating Columbus's arrival in the Americas before wandering off in quest of an interesting lunch; our last in Cuzco.
We arrived at Plaza Nazarenas and were surprised to discover we had visited the previous evening for dinner at Fallen Angel in Cuzco, the quirky restaurant right next door to MAP.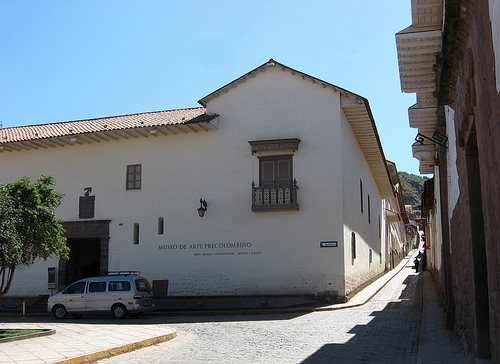 The Museum is in a converted hacienda,; an estate granted to a conquistador in 1580 that was previously an Inca ceremonial palace. The collection of artworks displayed at the museum encompass a period ranging between 1250 BC and 1532 AD in ten galleries: Formative, Nasca, Mochica, Huari, Chancay – Chimu, Inca, Wood, Jewelry and Stone, Silver, and Gold and Metals.
I don't profess to know anything about Pre-Columbian art, other than what we viewed was spectacular and is a must-see for any traveller to Cuzco. Check out Baltimore Bob's photostream on Flickr.
Strolling through the galleries we stumbled upon a central courtyard with what looked remarkably like an oversized glass shipping container tucked neatly against a wall. Closer inspection revealed a stylish dining room inside and we immediately realised that our "interesting lunch" dilemma was close to solution.
Introducing the MAP Cafè.
Not really a cafè in the traditional sense; more a high-end dining room in a fishbowl in a museum stocked with priceless antiquities. This one ticked all the boxes, at least for novelty value. The menu looked interesting and we were early enough to snag a table as walk-ins, although we were told that 2pm would be the cut-off as they needed to set up for an afternoon cocktail function. Fair enough, we had no reservations, besides, there was more of Cuzco to explore on our last afternoon in town.
We kicked off with a half-bottle of Torrontés Riojano, an aromatic, spicy (almost a gewurztraminer) white from the Cafayate region on the middle slopes of the Argentinian Andes. Almost a local wine.
The menu was an intriguing blend of standard Peruvian staples, 'tricked up' with Asian and European techniques and previously unknown indigenous ingredients. For starters we chose …
Michelle: Ensalada de conchitas y quinua crocante al maracuyá (Quinoa-crusted scallops salad with a passionfruit vinaigrette)
Me: Ceviche de camarones a la piedra (Warm crayfish ceviche)
and for mains …
Michelle: Gnocchi de papa amarilla y camarones en salsa de coral y rocoto (Crayfish and yellow potato gnocchi with a creamy rocoto chilli sauce)
Me: Canilla de cordero con papas al mortero y ajos confitados (Braised lamb shank with potato rocoto and confit garlic)
The perfect accompaniment to those dishes was a velvety and intense high altitude Michel Rolland Malbec from the Mendoza region of Argentina (just a half bottle, though). MAP Cafè was a real find and we later learned that many locals consider it the finest restaurant in Cuzco.
Soon enough our lunch was over and we ambled off feeling rather smug with our dining 'discovery'. Continuing through the San Blas area we happened upon a hand-printing store where indigenous and contemporary art is screen printed on Tshirts and the like. While shuffling through assorted potential souvenirs the in-store sound system ramped up with a rousing rendition of Men at Work's now-world famous 1981 America's Cup ditty "Downunder", causing an embarrassing bout of wine-influenced foot-tapping and hip gyration.
Over the next few hours we wandered the streets of central Cuzco, mindful that we needed to redeem our laundry before 7pm due to our early-morning departure for Puno and Lake Titicaca. At around 6pm we were dragged into a touristy cafè by a spruiker with even more attitude than a Lygon St hustler and we scoffed into third-rate empanadas, which remained largely uneaten due to a rather unpleasant smell.
We collected the laundry, still damp and neatly folded into a large plastic bag resulting in a curious blend of colours washing through the garments.
LifeNotes Top Tip: If in Cuzco, and in need of a satisfying laundry experience, be sure to avoid the place that charges by weight on Av Tullunayo just off Av El Sol
At precisly 6:47pm, about 80 metres from our hotel, the first excrutiating spasm ran across my stomach, rapidly followed by that awful sensation of everything inside turning to liquid. What followed was a mad dash to the hotel and the comforting sanctuary of a freshly sanitised bathroom.
just another way for you to stalk me